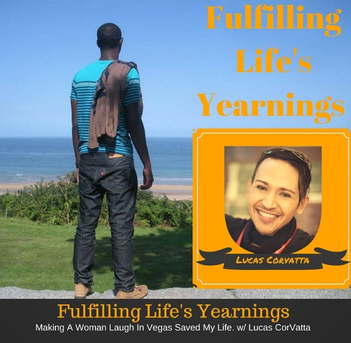 "​​Fulfilling Life's Yearnings Is Living Life Authentically. It Makes Life Easier and Happier."
– Lucas
​
In this episode, you'll discover:
Lucas' story (01:40).
How comedy saved his life (03:15).
How his advocacy for suicide prevention and awareness fits into his craft as a comedian (10:30).
What people say to him after seeing his comedy show because of what he is able to do – you won't believe what comes out of their mouths (14:30).
How Lucas is able to turn his tragedy into comedy (20:44).
What happens when Lucas questions whether his comedy material crosses the line (23:25).
What Lucas wants to begin focusing on – it's full of positivity and very personal (26:00).
What happened with Lucas when he finally expressed his true self and came out to his parents (31:50).
Who Lucas looks up to in comedy and who his heroes are in life (43:15).
Lucas' Call to Action and his definition of Fulfilling Life's Yearnings – Live an authentic life. It makes life so much easier and happier (51:35).
​Recorded: January 25, 2016