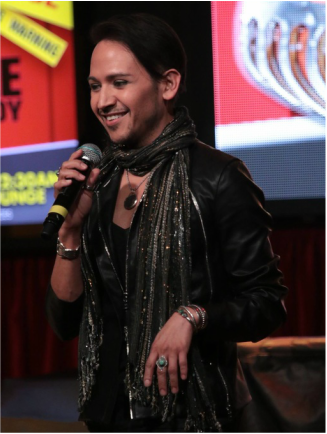 Best known for his honest and quick-witted humor, Lucas CorVatta is a working Standup Comedian and Actor. He is the resident comedian for numerous Comic Cons within the Southwest and has opened for Marsha Warfield, Rich Vos, Cameron Esposito, G-Tom Mac, Corey Feldman and Vicky Shaw, to name a few and is a favorite at The Stratosphere and at The Dirty at 12:30 at South Point Casino in Las Vegas, Nevada.
Lucas was a columnist for the
Medical Marijuana Journal
and the Travel & Entertainment Contributor for the national GLBT magazine
Pride & Equality
.
He was appointed "Celebrity Ambassador" for Bathing Bad, a bathing product line inspired by the Emmy award-winning TV series Breaking Bad. He was also spokesperson for Clear Sky Skin Care, "You can't put a price tag on confidence."
He was Co-host and a Producer of the popular CW television show, "Duke City Comedy League". He hosts live events and entertains audiences at
Pride
,
PFLAG
and charity functions throughout the United States.
Lucas has spoken at colleges and support groups about suicide awareness and prevention. As an advocate, Lucas is passionate about bringing awareness to individuals whether young or old, gay or straight.
---
For Booking Information Contact:
"Lucas CorVatta is a charming young man whose quirky sense
of fun has made him into an entertainer with flair.
As a writer he has a mission to encourage people to be who
they are, and to live fully. As a young man he struggled
to come to terms with being gay only to learn that when he revealed his nature, the people closest to him embraced him fully."
- Writer's Block/Sharon Vander Meer
Click here to read the entire blog.
Copyright 2013, Lucas CorVatta & Co. LLC, All Rights Reserved. No portion, photos or material contained in this website may be used without the written consent of its owners.